The Canadian government has released a list of designated learning institutions (DLIs) that have had their COVID-19 readiness plans accepted and approved by their respective provincial or territorial governments.
This approval is a major factor in a school being able to welcome students, following the government's decision to reopen the border to international students as of 20 October.
A statement from Immigration, Refugees, and Citizenship Canada advises:
"To be able to come to Canada as an international student, you must meet two (2) criteria:
You must have a letter of introduction or a valid study permit that shows you have been approved for a study permit.
You must currently be enrolled in or attending a designated learning institution (DLI) with a coronavirus readiness plan approved by its province or territory."
"Your coming to Canada will be considered non-discretionary, if you have all of the necessary documents and your DLI is on the approved list."
IRCC says that:
"When the Canadian immigration services officer greets you [at the port of entry], they look at several factors, including:
your reason for traveling to Canada;
your ability to complete a fourteen 14-day quarantine period as soon as you get to your final destination;
if you either (i) have time to conclude your quarantine before you physically attending classes, or (ii) can study online during your quarantine period."
Below is a list of DLIs by province and territory that are currently approved to receive international students in Canada.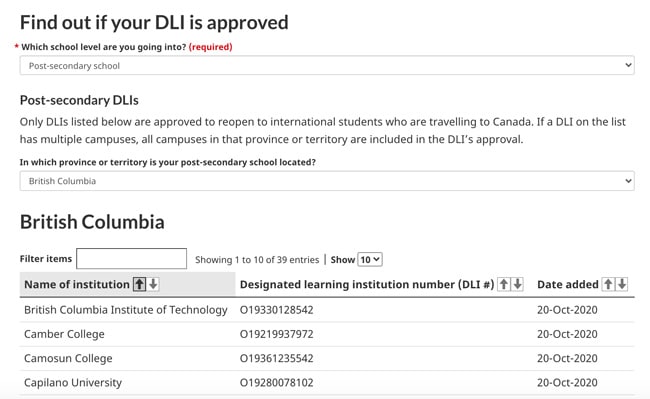 Currently on the list are all independent and public primary and secondary schools in Manitoba, British Columbia, New Brunswick, Prince Edward Island, and Quebec.
Institutions in all other Canadian provinces and territories are not approved to receive students at this time.
Also as of November 18th, there are 558 designated learning institutions, including universities, colleges, private training schools, and language schools, on the approved DLI list.
Roughly two-thirds are in Quebec. There are currently no approved post-secondary institutions in Nova Scotia, Northwest Territories, or Nunavut.
Canada immigration ministry regularly updates its list of designated learning institutions regularly as more and more post-secondary institutions have their coronavirus readiness plans approved by their respective provincial or territorial governments.