When you submit an application with the Canada Immigration department, it takes them a little while to assess your application. IRCC web form is used to send additional documents to CIC.
While waiting for processing of a submitted application, you may need to update your record, status or change something about your application, and you can do that using the IRCC web form. And in this article, we'll cover how to use the CIC webform and what to expect.
What is the IRCC web form?
The IRCC web form is an online service that gives you fast access to the Canada immigration department, CIC (Citizenship and Immigration Canada).
CIC was the former name of the department that handles anything related to immigrating to Canada from any other country. The department changed its name to Immigration, Refugees and Citizenship Canada (IRCC) in 2016.
So after submitting your application and you feel you need to contact them for anything, you use the IRCC web form.
IRCC Web form types and use cases
You can use the IRCC web inquiry form to inform immigration of any change in your status since your application was submitted, inform them of marriage/divorce or other common-law arrangements or the birth of a new child or dependent. Read below for specific use cases of each form.
#1. IRCC web form for visitor visa
Visiting visa is one of the most popular applications submitted to the Immigration Refugees and Citizenship Canada annually. Visitor visa applicants can inquire about their application or submit additional supporting documents to CIC using the IRCC web form for visitors visa.
#2. IRCC web form for work permit
If you have applied for work permit (or spouse open work permit) in Canada, you can use IRCC web form for work permit to check status of application, submit additional documents, change of address or other changes in your profile to CIC.
Permanent residency applications are submitted by foreigners who want to immigrate to Canada permanently through one of Canada's immigration routes. You can contact CIC online using the web form for PR. This form can also be used to ask for status of your PR card processing.
#4. IRCC web form for change of address
Canada immigration demand that applicants keep them updated of every change in address, this is partly for security reason and also to ensure that correspondences and mails are getting to the right person. If you have a pending application with IRCC and have moved from your former address to a new location, this form can be used to update the visa office handling your papers.
#5. IRCC web form for change of circumstances
As an applicant (whether for visa, work permit or permanent residence), your circumstance change the moment you loose your job, got a new job, lost a child/dependent/spouse, going through a divorce or had a new born child/dependent. Use the IRCC web form for change of circumstances to inform immigration of these changes.
Sometimes the CIC may request that applicants provide record of employment to support an existing or new application. Use the web authorization form to submit ROE to immigration Canada.
#7. Interest to sponsor web form
If you want to sponsor a dependent or qualifying family member to Canada, the interest to sponsor web form is recommended. Ensure to provide all identify information of the sponsor and the sponsored while submitting this form.
#8. Update birth of new child online
It is a good news to have a newborn in your family. If you have been blessed with a new child in the course of waiting for your application, you need to inform IRCC of the new child. That way, they will include the child in your application. You may need to include birth certificate, or international passport for the child to show proof of relationship.
#9. Application status inquiry
In general terms, candidates with pending application are expected to use the online tool in CIC website to check for processing time or status of their application. However, in some cases, applicants whose application time has exceeded the specific processing timeline for their type of visa application can use the web form to inquire about status of their application.
#10. Study permit application status inquiry
Canada is currently the most popular study destination for international students who wish to study outside the shores of their home country. International students who have pending application with IRCC can use the CIC webform to check status of their student visa or study permit application.
What can you do with the IRCC web form?
With the IRCC form you can;
Ask them what's going on with your application (application status inquiry);

Give them new information you think will increase your chance of getting a PR. (

This includes sending additional documents, updating your child's date of birth, etc.)

Change or correct some details in your application;

Report anything at all.
How to complete IRCC web form online
Immigration, Refugees and Citizenship Canada has a dedicated page for updating information, making inquiries and submitting additional documents to IRCC. The following steps will guide you to use the IRCC Web form.
#1. Click on the "Tell us more" button highlighted in the image below.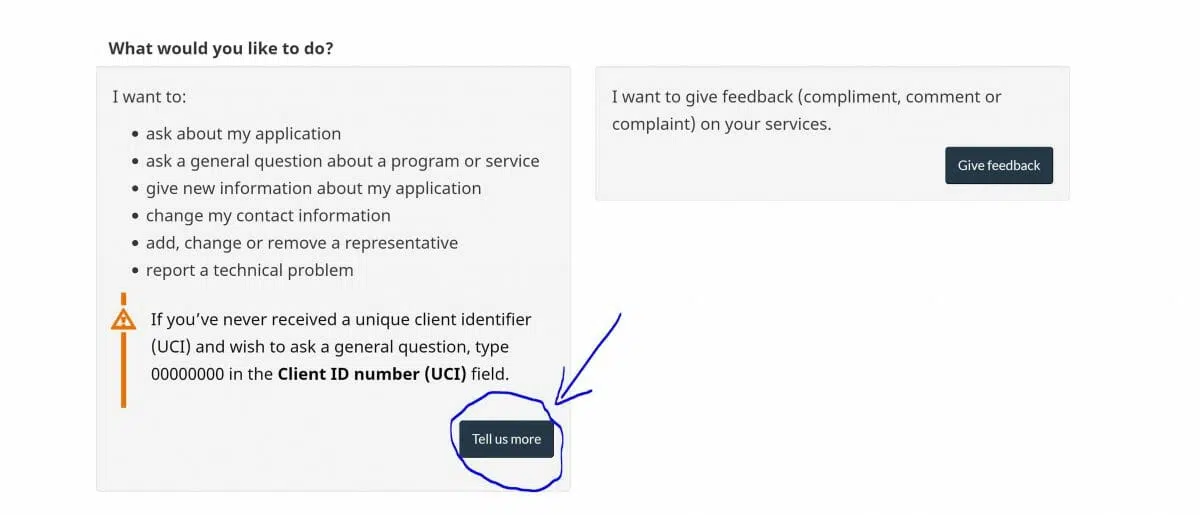 When you click on it, it will ask you two questions so that the IRCC department will send your inquiry to the right person. That way, you'll get a faster response and resolution to your needs. So make sure you answer the questions accurately.
#2. Click on the button that says "Go to Webform" (See image below)
#3. It will take you to the IRCC form page. It looks like this:
#4. Scroll down and correctly fill out the form.
Important tip
To get a fast and accurate response, we advise that you be brief. Try and go straight to the point because these reviewers often have thousands and sometimes millions of submissions to review and respond to.
When they see your response is not too long, they'll naturally feel it'll take a shorter time to respond to you.
IRCC webform response time
How soon you get a response from Immigration Canada will depend on three things:
The number of submissions they receive,
How complex your application is and
How well you presented your information (if you followed instructions).
So remember, always go straight to the point. Follow all instructions. Give them as much information as you have so that they'll be able to assist and respond to you quickly.
And… Don't forget to read the form instructions carefully.
Contacting IRCC in follow up of web forms
You may need to contact IRCC after they have responded to you. In some cases, you may need to respond to their questions or provide additional details or attach documents by email.
If they respond and you feel you still need to respond to them, you can reply to their email or open another IRCC web form. Ensure to follow up quickly to avoid failures while sending email. Such failures are known to happen if IRCC have deactivated the secure communication with an applicant via email.