Looking for things to do in Peterborough? The city has plenty of amazing and fun things waiting for you. Is it the amazing food scene, incredible parks, fascinating history or some of the best museums and zoos in the province? Whichever it is, you must definitely find an activity and attraction right for you.
Peterborough is a pretty awesome city to experience. From an amazing culinary scene to one of Canada's best artistic and musical cultures. You will also have access to some of Ontario's most beautiful parks. Your experience in this city is among the best you can get in Canada. See a plethora of activities and attractions you can see in Peterborough.
Where is Peterborough?
Peterborough is a city on the Otonabee River in Ontario, Canada. In 2016, the population of the City of Peterborough was 81,032. While the population of the Peterborough Census Metropolitan Area (CMA) was 121,721 in 2016.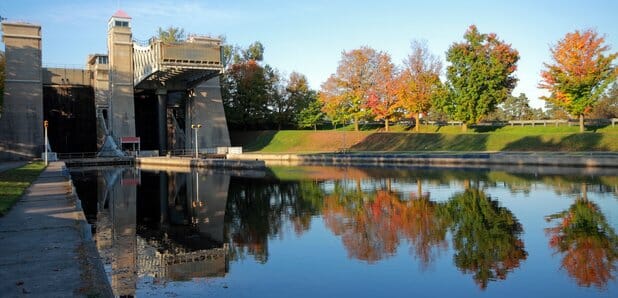 Peterborough is part and central to the Kawarthas region that includes nearby towns such as Lakefield, Havelock, Buckhorn and more towns. Once you experience this city, you have also explored the Kawarthas as it is about the city itself.
Cities near Peterborough
The following cities are close to Peterborough and residents of the city can get into them at any point. So, whenever you feel like getting out of Peterborough, you can visit any of these cities:
Lakefield
Omemee
Millbrook
Norwood
Hastings
Bobcaygeon
Lindsay
Havelock
Port Hope
Cobourg
Fenelon Falls
Campbellford
Colborne
Bowmanville
Port Perry
How to get to Peterborough by Air or Road
Air travellers coming into Peterborough can use the Billy Bishop Toronto City Airport. This airport which is only 138km from the city has international and domestic flights from Toronto, Canada. Travellers can also use the Toronto Pearson International Airport to get into Peterborough. If on the other hand, you are travelling by road, you can find your way through many routes that lead to the city. If you are taking public transport, you can take either buses or cars from Toronto. These buses can take you to the innermost part of the city.
Fun things to do in Peterborough
Peterborough offers an amazing food scene, incredible parks, fascinating history, and some of the best small museums and zoos in the province. Find out the best attractions and activities in Peterborough.
#1: Explore the Food Scene
If you are the type that fancies food, you can try out the local food scene in Peterborough. This is worth every bit of it. Just enter any of the great food and restaurants in the city and you will find out how amazing they are. and surely you wouldn't want to miss this experience. Some of the best restaurants in the city include The Only Cafe on Hunter St., The Silver Bean Cafe.
What if you are looking for the perfect place for your dinner, Peterborough also has a lot to offer you. You can try Rare on Brock St., St. Veronus at the corner of Hunter St., Water St. or  Dr. J's BBQ and Brews on Aylmer.  What about trying out Ashburnham Ale House in East City, one of the most popular restaurants in Peterborough for your local craft brews alongside scrumptious favourites such as their classic steak frites. There are more to explore, but experience it than be told.
#2: Explore the Parks
Parks are natural to Peterborough, so, if you are looking for a park to relax. Just come out and you will have some of the best parks in Canada at your beck and call. Peterborough is truly blessed with great parks both inside and just outside the city. The absolute best park for a stroll is Jackson Park at the corner of Parkhill Rd. and Monaghan Rd. You can as well try out Millennium Park.
In fact, you'll also find plenty of other great outdoor spaces including Beaverhead, Nichols Oval. What about provincial parks such as Kawartha Highlands, Silent Lake, and Petroglyphs where you'll find some of the best-preserved Indigenous rock carvings in Canada.
#3: Tour Peterborough Museums and Art Galleries
Have you wondered about touring the Peterborough Museums and Art Galleries? If not, you must consider it. Peterborough has fantastic museums and art galleries where history and culture meet. In fact, the Canadian Canoe Museum is world-famous, drawing visitors from around the world who want to learn about Canada's rich outdoor history.
You can head to the Peterborough Museum and Archives to learn about Peterborough specifically.  Admission to the museum is by donation. A tour inside will give you a deep look into the rich history of the city and its founders.
#4: Cruise The Canal and Ride The Lift Lock
Famous for being the world's highest hydraulic lift lock, this is an amazing place to be. Surely, the experience is also special. The lift lock raises boats travelling along the Trent Severn Waterway nearly 20 m to the river above. Not only is it a record-holding lift lock, but it's also a National Historic Site of Canada.
#5: Go to the Zoo
Definitely, you are travelling with your children, then, this great zoo for all ages is the perfect place to visit. Riverview Park and Zoo has long been considered one of the best small zoos in Canada. Most importantly, visits to the zoo are completely free.
At the Peterborough zoo, you'll find loads of great animal displays including the popular camels, reindeer, wolves, big cats, and the ever-popular lemurs and meerkats. There are also amazing grounds for picnicking along the river or playing a round of disc golf.
Kids will love the close encounters with crocodiles, snakes, and lizards. But one of the most popular thrills is the Dinosaur walk which meanders through the forested grounds populated by life-sized animatronic dinosaurs.
#6: Take On the Escape Maze
Escape Maze Peterborough has become one of the most popular year-round things to do in this beautiful city. It features three indoor escape rooms and five outdoor adventure trails. They even have seasonal trails that are rotated including their incredibly popular Zombie Walk which takes place around Halloween.
#7: Take A Buttertart Tour
Peterborough and the Kawarthas are famous for butter tarts. These classic Canadian treats can be found just about anywhere in the region. But, if you want to bite into one with the perfect crust and the juiciest filling, you'll want to hit one of the spots on the Butter Tart Tour.
The Buttertart tour has over 50 stops throughout the region. In the city of Peterborough itself, make a stop by the Electric City Bread Company on Sherbrooke St. or on King St. check out the Magic Rollin Pin for some scrumptious flavours.
#8: Attend Festivals
What better time to visit Peterborough than during summers. You can attend the Peterborough Musicfest in Del Crary Park on Saturday nights. The stage lights up with the music of all sorts from world-renowned rock stars to local performers, and it's all free.
Other festivals in the city include the Peterborough Folk Festival which takes place throughout the city near the end of August, the Peterborough SnoFest winter carnival in mid-January, and there is the awesome ReFrame Film Festival that takes place towards the end of January each year. It wouldn't be a bad idea to attend these events to keep yourself entertained and in high spirits.
#9: Enjoy the Craft Brew Scene
If you love beer, there is a lot of places to have it in this wonderful city. Try out the Kawartha Lakes Brewery now purchased by Amsterdam Brewing Co. In fact, craft breweries in Peterborough have become so popular that the region opened a fantastic craft brewery tour.
Some of the best in town include the Publican House, Smithhaven Brewery, Olde Stone Brewery, Bobcaygeon Brewing Co. and others.
#10: Enjoy the Cottage Scene
Looking for peace of mind outside, Peterborough has loads to offer for those looking for a peaceful escape to the outdoors. Viamede Resort is a classic cottage-style resort just a short distance from the city. It's located on the pristine shorelines of Stony Lake and offers year-round experiences catering to families and couples.
Some other great cottage resorts in Peterborough include Stillwater on the Lake, Elmhirst Resort. If you want to stay more local, get a room at the waterfront Holiday Inn on George St.
#11: Hit The Links At One Of These Peterborough Golf Courses
This city is not just about parks, water, and food. there are other things that make the city a great place to visit and have fun. If you are the type that loves to combine outdoor fun with great company and the occasional tipper. The golf courses in the city are perfect for you. You can try the following unique golf courses in the city:
Keystone Links Golf and Country Club
Lift Lock Golf and Country Club
Heron's Landing Golf Club
#12: Fish in the City
Muskie and other monsters have been caught in Little Lake, so there's no need to lose access to a latte just to land a huge fish. The city has some lakes where you can fish and have fun while doing so.
Things to do in Peterborough on special days
Every day in Peterborough is a special day as there can hardly be a day in this city without a new experience. Residents of the city have a lot of things to do to catch fun. However, on some special days in the city, you can go to special events and activities. You can check out some of the summer festivals in the city.
Things to do in Peterborough every day
You can catch fun in Peterborough doing the following:
Go to a restaurant
Visit the parks
Explore the museum and art galleries
Drink beer in the bars
Play golf
Go fishing
FAQs about Peterborough
When is the best time to visit Peterborough?
You can visit Peterborough any time of the year. However, the weather is more comfortable at the middle of the year with the months of June, July and August being the busiest season for tourism in Peterborough.
What are winters like in Peterborough Ontario?
The winters are freezing, snowy, and windy; and it is partly cloudy year-round. Over the course of the year, the temperature typically varies from 9°F to 78°F and is rarely below -10°F or above 86°F.
Where is Peterborough?
Peterborough is situated in Central Ontario within the Kawartha Lakes region. Peterborough lies in the St. Lawrence Lowlands ecoregion.
Conclusion
In summary, Peterborough is a great place to visit with a lot of activities and attractions for everyone. Hardly do you come to a part of the city without an attraction. Make sure to enjoy all these attractions in the city. If you're excited to know more, learn about life in Peterborough Ontario.