15 Fun Things to do in Quebec City – for Singles, Couples and Families
You cannot take away 'fun' from the things to do in Quebec City. Coming to this city of rich history and tradition, with attractive and impressive architecture, is another way of saying you want to have fun till your last day here. Sure, that does not, in any way mean that you are not going to work as a resident but the fun is one way of unwinding from the stress and distractions of life.
Resting on a spectacular spot overlooking the Saint Lawrence River, Quebec City came into existence in 1608 with a rich history and heritage that have seen several generations. Undoubtedly, coming to Quebec City you have lots of country-old buildings, churches and fortifications that take your memory back to ancient times.
What's more, Quebec City is one city that brutally boasts of and protects its French-Canadian identity and language and at the same time, acts as the heart and soul of the province. With museums and tourist attractions, which draw attention to its rich heritage, there are several exciting things to do here.
In essence, exploring the full glamour and splendour of Quebec City is one decision you must take now. And that is why we have brought it to your doorstep. In this article, be ready to delve into this splendid city in the province of Quebec and see things to do and places to go with your loved ones.
Where is Quebec City?
Set on the confluence of Saint Lawrence River in the province of Quebec, Quebec City is majorly a French-speaking city. Since its establishment, it boasts of a fortified core, Vieux-Quebec and Place Royale, with architectural buildings and designs.
Moreover, it is the only Canadian city with a wall and divided into the upper and lower parts. With narrow, cobblestone streets and towering buildings, Quebec City has a lot to offer the singles, couples and families that decide to stop over for a meet and greet.
What is the population of Quebec City?
As the capital of Quebec, Quebec City is the 8th most populated city in Canada. It has an estimated population of 705,103 people as of 2021.
What are the cities near Quebec City?
The cities include Saint-Claire, Levis, Saint- Agapit, Saint-raphael, Saint-henri-de-levis, Beaupré, Pont-Rouge, etc.
How to get to Quebec City by air or land?
Getting to Quebec City couldn't be simpler using the fastest and safest means. Hence, there are diverse ways of getting to Quebec City – by car, bus, train or plane.
Getting here by car, Highway 20 runs along the south shores of St. Lawrence River and Highway 40 accesses the north shore to the city. By bus, Intercity Transit is accessible to all 222 bus stations within Quebec for efficient and timely trips.
There are also the Intercar, Orleans Express and Greyhound, all travelling from Quebec city to other destinations within and outside the province.
By train, VIA Rail Canada runs daily services between Toronto, Ottawa, Montreal and Quebec City.
By plane, Quebec City Jean Lesage International Airport flies 10 miles away from downtown Quebec City to major cities in Canada and US. Soon, London will be added to the list.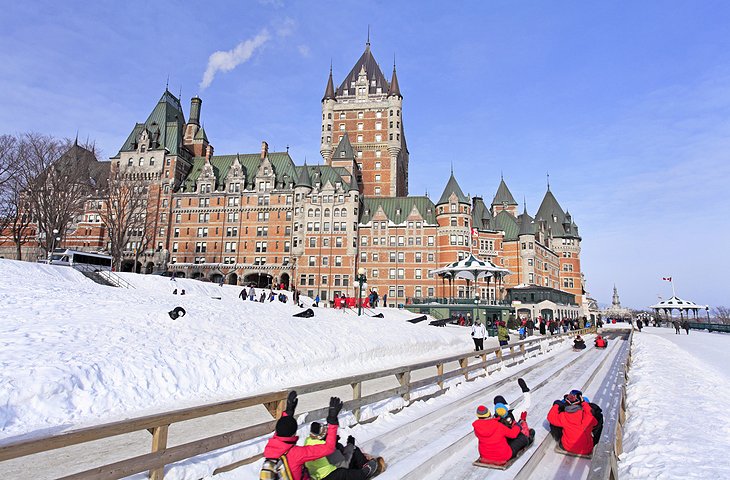 Things to do in Quebec City
Here are the exciting things to do in Quebec City if you want to enjoy beautiful moments.
1. Head to La Promenade des Gouvernuers
What is more interesting than visiting this popular place and strolling the surroundings? As such, you can start from both Chateau Frontenac and Terrasse Dufferin, stroll across incredible viewpoints and intriguing significant landmarks and burst at Battlefields Park.
Technically, the Promenade is one of the oldest buildings in the city and came into existence in 1958. It remarkably hugs the side of a cliff and has steps that take you down the leafy tree-lined paths.
Again, the fortifications of the old citadel sit on one area of the building. There, you can look over Lower Quebec and the waters of Saint Lawrence River which overlooks the building.
2. Enjoy a leisurely walk across Quartier Petit Champlain
Undoubtedly, Quartier Petit Champlain is among the most stunning areas of the city. Strolling through the narrow streets gives the feeling of walking through the heart of a historic city in Europe. The structures, which are made of stones, line the pedestrian-only streets that fasten between the historic buildings, equally house different ranges of shops, restaurants and services.
If you need to have a quiet moment with just yourself, Quartier Petit Champlain is the perfect place for a stroll. You could as well make a stopover at the restaurant or pick up something nice at the boutique.
3. Go to the Musee de la Civilisation
Another fantastic idea of fun things to do in Quebec City is visiting the Musee de la Civilisation. Having a three-part institution that delves into different aspects of history and the establishment of French America, this is a museum with a difference. With a design by the famous architect Moshe Safdie, the major museum is located in Basse-Ville, around Old Port.
Equally important, the central museum draws its collection from various civilisations across the world. Hence, it is of great architectural importance. You can learn more about history by visiting this great place with your lover or family.
4. See the sights of la Citadelle de Quebec
With a height of 100 meters that plunges upwards from the west, overlooking the St. Lawrence River, Cap Diamant commands an ecstatic scenery. Here is the location of Quebec's star-shaped Citadel, a large castle surrounded by thick walls, ramparts and ditches that were built in 1832.
Besides, the Citadel is military quarters for generals, officers and servicemen, including the summer residence of the Governor-General of Canada.
In essence, there is a lot to see in the Citadel of Quebec (la Citadelle de Quebec). Why not head there this summer and watch the Changing of the Guard ceremony each morning? It is open all year round and will be one of the interesting to make your heart merry.
Similarly, in front of the Chateau Frontenac lies a set of stairs that lead up to the Citadel and the Plains of Abraham. Climbing the stairs could offer the feeling of living in the past.
5. Explore Parliament Building (Hotel du Parlement) and Parliament Hill
The large district, lying immediately southwest of the old Upper Town, is the seat of Quebec's provincial government. Built-in 1877, the Parliament (including the Salle de l'Assemblée Nationale and Salle de Conseil Législatif) are open to the public.
Although they are fine old chambers, they are exquisitely furnished. However, visits to the Parliament are usually not free. But you can purchase your ticket in advance.
Away from the building is also the Grand Theatre where you can watch some interesting plays, concerts and symphony performances. There is also the Palais des Congres, a shopping and entertainment complex. They are both open to the public.
6. View the world from Observatoire de la Capitale (CAPITAL Observatory)
Sitting on the Marie-Guyart Building, on the 31st floor, is the 360-degree Capital Observatory which offers more than just a bird's-eye view of Quebec City. The interactive exhibits give so many hints about the development of Quebec City and how it grew over the centuries.
Equally, the place has a kids-height section, designed for your kids. Your eye can see as far as Levis and St. Lawrence. From the Funicular, you can see beyond the old building to the hills of Quebec City.
7. Take a walk around the Fortifications of Quebec National Historic Site
In over 300 years of the history of Quebec, it can boast of several fortifications, all of which can be discovered by taking a circular walk around it.
Moreover, the castles were made of granite and sand and stretched over four kilometres of defensive rampant on the west. This is a spectacular fortification in North America, with its bastions, walls, towers, gates and many cannons showing how Quebec was protected.
Also, this national historic site was completed in 1832, with pieces of weaponry and since then, have been a constant reminder of how troubled the beginning of Quebec was.
8. Cruise on Quebec-Levis Ferry
Sitting just across the St. Lawrence River, the Quebec-Levis Ferry offers a real tie between Quebec City and Levis. You can cross over to the other side to enjoy fascinating views of the city skyline.
Moreover, if you get the chance of doing so at dusk, you will enjoy the view of the lights radiating from Chateau Frontenac, the Price Building and other historic construction.
9. Enjoy your winter at Carnaval de Quebec
Carnaval de Quebec is a two-week winter festival that takes place amid the snow and ice (between late January and early February). The first carnival took place in 1894 and 1955, it became an annual festival which is led by a colossal snowman mascot known as Bonhomme Carnaval.
His home, a huge castle, is designed and covered in original artwork by Quebec's best graffiti artists.
Traditional events like dogsled races, sledding, dancing, parades, skating and snow swimming are carried out on that day in form of two snow sculpting competitions – the Canadian National and International Snow Sculpting Contest.
They are held at the Plains of Abraham and you can watch in admiration as the participants thrill their audience. Most importantly, these activities are majorly free and open to the public, although some allow a ticket before you can gain entry.
10. Go on a Whale Watching Tour
If you would like to have a change of scenery and enjoy something enlightening, while entertaining you, the Whale Watch is the best option for you. Here, you will learn more about the Charlevoi region's marine life.
Significantly, it is a day tour that picks up and drops off passengers in downtown Quebec City. They equally make a stop in Laiterie Charlevoix.
You can impressively enjoy a three-hour ride on a large observation boat or a smaller zodiac two-and-half-hour tour. The interesting part is that the tour guard is there to offer narration as you tour the city.
11. Tour Morrin Centre
Resting in the heart of Old Quebec, Morrin Centre offers an interesting insight into the history of Quebec City. Remarkably, it was formerly a prison before being converted to an English language library and learning centre.
In 1981, it was made a National Historic Site. Walking around the stately stone building, you can see the wonderful Victorian-era library with ancient tomes and rare books that lined the shelves from floor to the ceiling. You will also find ancient furnishing with some old artefacts, dating back to the time of the building construction in 1712.
12. Stroll the Battlefields Park
Just a few kilometres to the west of the centre of the Plains of Abraham lays the Battlefields Park. It is a famous park where both locals and tourists come to have fun. It was the site of the 1759 Battle of the Plains of Abraham, when the British beat the French, which had effect on the formation of Canada.
Strategically lying on the banks of the St. Lawrence River, the park is boasts of historical artefacts and four Martello towers. With lots of grasses, a playing field and picnic areas, it is the best place to have a family reunion.
13.Laze around Montmorency Falls Park
Resting in just about fifteen minutes' drive to the northeast town is one of Quebec City's most amazing natural attractions – the magnificent Montmorency Falls. The 275 feet waterfalls are much taller than the famous Niagara Falls and the best bet for some fantastic photos.
With some splendid hiking trails, playgrounds, cable cars and zip-lines, you can always go there as a single, couple or family to have some special moments.
14. Spend time in Terrasse Dufferin
Are you stressed or having a boring time? One of the places you can unwind for the day or week in Quebec City is by spending some quality time around Terrasse Dufferin. The place also provides a stunning view over the Old Quebec and the famous St. Lawrence River. Perched atop a cliff, the long boardwalk wraps its way around Chateau Frontenac, the famous hotel that overlooks the skyline of Quebec City.
Besides, it was constructed in 1897 according to the description of Lord Dufferin, the wooden plank walkway is dotted with quaint old gazebos, lamp posts and benches that offers the feeling of living in the glory of the past. With street performers and artists lining the terrace, Terrasse Dufferin is a perfect place to give a shot in Quebec City.
15. Have great time on Old Quebec
Furthermore, this place should be the highlight of things to do in Quebec City. In fact, if you have not been here before, you are yet to enjoy the ambience of the city. More to the point, the Old Quebec is the momentous heart of Quebec City and offers a variety of sights.
Sure, its buildings and streets are specifically appealing and there are no boring attractions around. Made up of both Upper Town and Lower Town, the place has an old port and Battlefield Park resting on either side and presided over by Chateau Frontenac.
The Old Quebec also boasts numerous century-old buildings and attractions, including its citadel and cathedral. The peak of it is that Old Quebec has countless shops and restaurants where you can make a stopover to pick something nice or refill your tummy.
15 Fun Things to do in Victoria
What to do in Quebec City on special days?
Here are the most recommended things to do in Quebec City on your special day, either as a single, couple or family:
Dive into the sea in Quebec City
Over 10,000 marine animals live in Aquarium du Quebec and all are unique in their special ways. Precisely, you can come here to have fun with these animals by viewing them from land or underwater glass viewing areas.
Enjoy a sightseeing cruise on the St. Lawrence River
You can join other excited people n a captivating sail through the St. Lawrence River and discover. So, if you are an outdoor lover, don't miss this tour.
Go on a bike tour
Unarguably, Quebec City is one of the favourites for bikers. You can bike through the trails around scenic areas of Quebec City. The trails, nevertheless, are flat and easy for beginners.
What to do in Quebec City on weekends?
Everyone looks forward to weekends, for special reasons. This weekend, you can choose to get off the house and enjoy some outdoor moments with friends and loved ones. Here are the best things to do in Quebec City to enjoy blissful weekends:
See art at the Musee National des Beau-arts du Quebec. Again, this museum exhibits stuff from the 17th century to this present age. It has four pavilions you can explore and they are right within the Plains of Abraham.
Have an afternoon tea at the Fairmont le Chateau Frontenac. You can count the best hotels in the world without mentioning Le Chateau Frontenac. If the city is the setting of a fairytale, the hotel will undoubtedly be the castle. Likewise, the building is free for all to walk in and view the historic sites. However, one way to enjoy your visitation is by booking a time in the hotel and viewing the whole city from your room. Another way is by walking down to the Champlain Restaurant and having an afternoon tea. You can book a guided tour and have fun with many other people.
Shop at the Petit-Champlain District. The Petit-Champlain was named the most charming street in Canada. It has been in existence since the foundation of Quebec in 1608. It is filled with bistros, boutiques and art galleries. The narrow and cobblestone streets as well as historical buildings, make it the perfect place for your fun if you are looking for things to do in Quebec City.
Things to do in Quebec City today
If today is one of those days you long for fun things to do in Quebec City with your lover, family or just yourself, here are some of them:
#. Plan a half-day trip to Montmorency and Ste-Anne-de-Beaupre
This is one of the guided tours you can embark on with different people who are as eager as you are to explore Quebec City. It does not just connote a visit to the city's most stunning churches and Montmorency Falls, you are having a nice time with the tallest attractions in the city.
You will experience some strategic stops along the way while enjoying nice treats from Chez Marie's oven bread and Chocolaterie de l'lle d'Orleans. Another stopover will be made at the Cuivres D'Art Albert Gilles museum. Simply put, it promises to be fun and nothing more.
#. Go on sightseeing by bus around top sites like the Plains of Abraham, Old Quebec and Place Royale
The Quebec City Sightseeing Tour offers this great option for you. Besides, you will get to learn about the city's culture and history from experienced tour guides as they take you on a two-hour excursion in a comfortable motorcoach.
#. Visit the Old Port with your family or partner
This 19th century Old Port (Vieux Port) lying in Quebec City is a national remarkable site that used to be a hive of commercial activities in Canada. It was brought to life again in the Center d'Interpretation and through the visually stunning projections and soundtrack of the Image Mill. Particularly on the waterfront is the daily public market (Marche du Vieux-Port) where you can gift yourself some local farm produce and other interesting house items.
Best time to visit Quebec City
The best time to visit Quebec City is June through September; December through February. During the summer and winter months, you can always enjoy special moments and carnivals in Quebec City.
Frequently Asked Questions
Is Quebec City expensive to visit?
Although it has everything luxury and fun, Quebec City is one of the most expensive cities in Canada.
What is the hottest month in Quebec City?
The hottest month is July, with an average high of 78 degrees Fahrenheit and a low of 61 degrees Fahrenheit.
Do they speak English in Quebec City?
English is widely spoken in most tourist areas, including Quebec City. If you are visiting as a tourist, speaking French is optional. But if you intend to live here, you will need to master the French language.
Conclusion
Quebec City is one of the top places to visit if you are looking for things to do in Canada. With the above information, we believe you can make the best choice based on that.