Top 20 Fun Things to do in Thunder Bay – For Everyone
The city of Thunder Bay, Ontario is often looked at as the far north of Ontario. Separated by the province's most populous cities by some of the world's largest lakes, getting to Thunder Bay from areas such as Toronto and Ottawa is an undertaking, to say the least.
Thunder Bay is arguably the most visited city in all of Northern Ontario, as it has so much to offer. There is something for everyone here, from magnificent natural scenery to fascinating historic architecture. Outdoor lovers, shopaholics, foodies and historians will all enjoy holidaying in the city. Regardless of what you are after. These article explores the top 20 things to do in Thunder Bay for everyone. Read on.
Where is Thunder Bay Located?
Thunder Bay is a city on Lake Superior, in northwestern Ontario, Canada. The city is the bridge between the Prairies of Canada and the Atlantic Ocean, and the gateway to the region. This area of the province has, hands-down, some of the most beautiful landscape in Ontario, and even holds its own among the most awe-inspiring places in Canada.
How many people live in Thunder Bay?
Approximately 108,843 people live in Thunder Bay, of whom 48.8% were male and 51.2% were female. Residents 19 years of age or younger accounted for approximately 19.9% of the population. People aged by 20 and 39 years accounted for 25.0%, while those between 40 and 64 made up 35.1% of the population.
Cities near Thunder Bay
While you are exploring the city of Thunder Bay, there few neighboring cities you might want to visit. Some of this neighboring cities include;
Nipigon
Terrace Bay
Atikokan
Ignace
Marathon
Geraldton
Marquette
Land O Lakes
Longlac
How to get to Thunder Bay?
Thunder Bay is located in the geographic center of Canada with the border to the United States just 45 minutes south.
Flying in
Thunder Bay Airport receives 12 daily direct flights from Toronto (from both Pearson and Billy Bishop Airports) as well as 2 from Winnipeg and dozens more from Northern Ontario destinations.
Driving in
If you're travelling by road, Thunder Bay is found at the crossroads of Ontario Highways 11, 17 & 61. This means those travelling across Canada or North from the U.S. will easily find the city
Boating in
Located on the shores of Lake Superior, it is also possible to arrive in Thunder Bay by boat. There are Great Lakes cruises that come into port as well as facilities for private Captains to arrive with their passengers.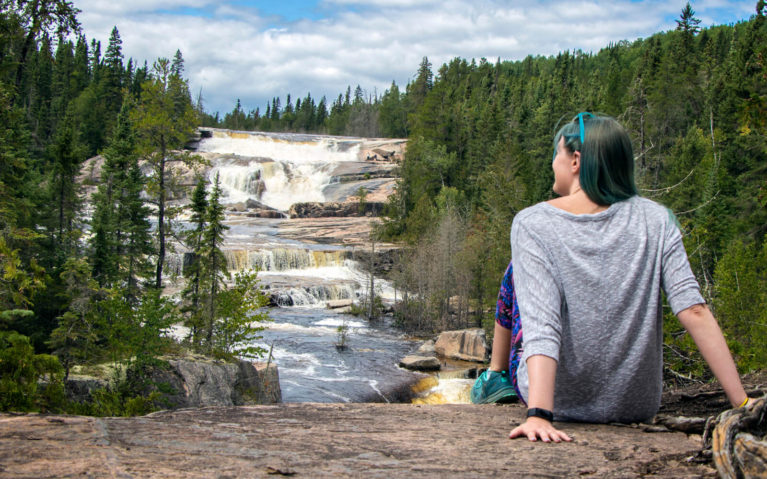 Fun Things to do in Thunder Bay
Thunder Bay is the largest city in Northern Ontario. This city is ripe with industrial history from mining to farming. Thunder Bay has a history of hard-living and a raw, frontier-like attitude. But the city is aging like a fine wine. And with an influx of fine-dining, novel attractions, and a waterfront that can compete with most cities in the province, Thunder Bay is welcoming visitors at a higher pace than ever before.
So, whether you're doing the Lake Superior circle tour up from Pukaskwa National Park, or exploring Thunder Bay over a few days, we're here to help you plan your northern Ontario travels. Here are some fum things to do in Thunder Bay, Ontario.
#1. See a sleeping giant
Not literally, but a mesa and sill formation that is named the Sleeping Giant because it looks like a giant sleeping on its back. The best views are seen from the cliffs at Squaw Bay.
The Sleeping Giant is one of the top 'Seven Wonders of Canada'. It is located within the Sleeping Giant Provincial Park, which has the most dramatic and steep cliffs in Ontario. The park itself also has plenty to do, including fishing, cycling, hiking and camping. In fact, there are over 200 campsites throughout the park.
#2. Learn about the fur trade
Visit the reconstruction of the Fort William fur trade post and learn about the city's economic past. The post existed in 1816 and today is a National Historic Site of Canada.
The trade post is in the Fort William Historical Park, which is a living museum. Wander around the park and look at the reconstructed buildings and historians dressed in period clothing, reenacting what life was like during the fur trade industry.
At its peak, the trade post was a community that was filled with tradesmen. The historical park is now home to one of the largest amphitheatres in the country.
#3. Enjoy the views
Enjoy spectacular views of Thunder Bay from the Terry Fox Memorial and Lookout, which is located on the outskirts of the city. The monument sits in a park overlooking Highway 17 and the city.
The Terry Fox Memorial was created to mark the spot where the famous athlete ended his run. It has since been moved to its current location, around four kilometres away. The monument depicts Terry Fox atop a pedestal that lists all of the places he passed through on his cross-country run. There is also a tourist information centre onsite.
#4. Surround yourself in greenery
The 263 hectare Current River Greenway sits along the Current River in the north end of the city. The massive green area is a great place to go to get away from it all and enjoy the scenery.
There are a number of areas within the greenway, including Birch Point Park, Current River Park and Evergreen Park. It also features a conservation area (Cascades Conservation Area) with hiking trails and beautiful landscapes.
You can also enjoy some magnificent views at the greenway's Bluffs Scenic Lookout, which is open all year. As well, there is also a sandy beach, a playground and picnic tables at the Boulevard Lake Park.
#5. Be entranced at a waterfall
The 40 metres cascading Kakabeka Falls is truly a place to be completely lost in the beauty of it all. The waterfall is located 30 kilometres west of Thunder Bay on the Kaministiquia River.
The falls have been nicknamed the 'Niagara of the North' due to its size and accessibility. The name 'Kakabeka' means 'waterfall over a cliff' in Ojibwe.
The rock that faces the falls features some of the oldest fossils in existence today, dating back some 1.6 billion years. As a result of the rocks sensitivity, there is no entrance to the gorge beneath the falls.
#6. Explore the city centre
Downtown Thunder Bay South; also known as the South Core, is the centre of the city and a great place to explore. It is centred on Victoriaville Civic Centre and is home to a number of landmarks.
Many government buildings are located here, as are major employers. But it is also an area of arts and culture, being home to numerous cultural attractions like the Brodie Street Art Gallery and the Thunder Bay Public Library.
You will also see many places of worship in the South Core, demonstrating again the city's diversity. These include the Gothic Revival St. Andrews Presbyterian Church, St Patrick's Cathedral and St. Paul's Anglican Church.
#7. Surround yourself in history
The Thunder Bay Historical Museum is located in the former Fort William police station, which is a beautiful Classical Revival building. The building itself is a work of art, as is much of what is inside of it.
Step through the doors of the museum and learn about various aspects of local history. Within the collection are dolls, furniture, pictures, maps and plans. There are also 130 metres of linear records. Also within the collection are 150,000 photographic images of the city and its surrounding area throughout time. Don't forget to also have a look at its historic fire truck.
#8. Go to the fair
This can only be done in August when the city hosts the Canadian Lakehead Exhibition. The annual fair is great for visitors of all ages, though it is a massive draw for families.
Walk around the fair and look at art by regional artisans or shop in its concessions. There is also a midway with games, rides and food stalls. On the grounds of the exhibition are a few buildings that are open year-round. These include the Heritage Building, Coliseum Building, Sports Dome and a Famous Players Silvercity Theater.
#9. Dine in an iconic restaurant
The Hoito Restaurant is the oldest restaurants in Thunder Bay, dating back to 1918. It is also arguably the oldest establishment in the entire country.
The restaurant is located on the lower level of the historic Finnish Labour Temple and serves Finnish-Canadian cuisine. It is most famous for its Finnish pancakes, which are served with maple syrup, sugar sprinkles or strawberry sauce.
The Finnish Labour Temple is also a landmark that was once one of Canada's largest workers' halls. It is designated as a National Historic Site of Canada.
#10. Stare at art
Although it is not big, the Thunder Bay Art Gallery is definitely interesting. In fact, it specialises in contemporary work by First Nation artists across Northwestern Ontario.
The gallery sits on the campus of Confederation College. It not only has a permanent collection, but also hosts travelling exhibitions. The Thunder Bay Art Gallery also works with and promotes the work of both local and regional artists. It features three galleries that change every 6 weeks.
#11. Spend the day in a park
Not only is Centennial Park a park, but it is also a living museum. The park features replicas of 20th century logging camp equipment and homes.
In addition to the historic logging camp, Centennial Park also has recreational trails, a craft shop and a playground. There is even an indoor picnic area. In the summer months, you can take a ride on the Muskeg Express Train or visit the animal farm. Come in the winter and go cross-country skiing or tobogganing.
#12. Go skiing
This is of course only available if you are in Thunder Bay in the winter, although Loch Lomond does offer hiking and mountain biking.
Loch Lomond boasts 17 ski runs that are equally divided into beginner, intermediate and advanced. The longest run is 2.4 kilometres and the highest vertical rise is 229 metres. Whether you are a complete beginner or are used to double black diamond runs you will enjoy skiing here. You can also go tubing, snowshoeing and fat bike riding.
#13. Look at flowers
Since 1967, the Centennial Conservatory has been open to the public. If you are a plant or flower lover, a visit here is not to be missed.
Wander around the greenhouses and look at the tropical flowers, plants and trees. There is even a cactus room onsite. There are pathways with benches throughout the conservatory, as well as a wishing well that is filled with coins from wishful thinkers.
#14. Canoe in wilderness
Head west out of Thunder Bay to the Quetico Provincial Park, which is renowned for its superb canoeing. The 4,760 square kilometre wilderness park sits along the southern border of the Superior National Forest.
Quetico Provincial Park is truly magnificent and offers some of the best canoeing on the planet! It has over 2,000 campsites that are spread throughout 600 lakes, making a true nature lovers paradise. The park is home to some impressive wildlife and you may spot a moose, bobcat, cougar or black bear. It is also home to racoons, chipmunks, rabbits, beavers and bald eagles.
#15. Walk through a canyon
Also outside of Thunder Bay, Ouimet Canyon is around 60 kilometres northeast of the city. The large gorge is 100 metres deep, 150 metres wide and 2,000 metres long.
Walk through the Ouimet Canyon and be in awe by the stunning scenery. There are also trails above the canyon that offer magnificent views overlooking it. The canyon is believed to date back a billion years when it was split by advancing glaciers. Nearby is the privately owned Eagle Canyon that boasts a zip line and two footbridges.
#16. Take In The Views From The Tallest Point In Ontario
Mount McKay in the First Nations community of Fort William boasts the highest point in all of Ontario. This massive sill is part of the Nor'Wester Mountains. A visit to Mount McKay should be on everyone's list of places to visit in Thunder Bay. The incredible views of Sleeping Giant alone make it worth the small entrance fee.
#17. Experience Some of The Mouthwatering Flavors Of Thunder Bay
One of the best things to do in any city is to experience local delicacies. Thunder Bay is surrounded by dairy farms, so it's no surprise that this northern city offers some of the freshest and most delicious dairy products in the province.
#18. Drink In The View Of Kakabaka Falls Provincial Park
Kakabaka Falls truly stands out as one of the most magnificent waterfalls in Ontario. At 40 meters (131 ft), Kakabaka is the second-highest waterfall in Ontario with year-round access. The waterfall also sits on a historic voyageur access route. There are hiking trails that allow you to walk in the footsteps of these legendary tradespeople. Camping is available at Kakabaka Falls from June to October. And the park is open for day-use year-round.
#19. Dig For Gems At An Amethyst Mine
The area around Thunder Bay is famous for its incredible geological history. A result of much of the tectonic and volcanic activity has been the emergence of fabulous veins of amethyst east of the city.
There are a number of great amethyst mines to explore including Diamond Willow and Purple Haze. But, if you want to learn a little more about amethyst and the history of the gems in Thunder Bay, check out Amethyst Mine Panorama.
#20. Bounce Along Canada's Longest Suspension Bridge at Eagle Canyon Adventures
Eagle Canyon, which is about an hour east of Thunder Bay, is home to two suspension bridges that criss-cross the canyon. Visitors can take in the views of the canyon and enjoy the pretty hiking trails both above and below the canyon rim. For those with mobility issues, there are shuttles that run to various areas of the park.
Top 14 Fun Things to do in Sherbrooke
Where To Eat In Thunder Bay?
Thunder Bay has become quite a foodie destination. Many locals are traveling outside of the city to train with world-renowned chefs before returning to their hometowns with expertise and experience. And although one of the city's most popular, Hoito, was forced to close due to COVID-19, there are still loads of great places to eat in Thunder Bay.
There are even a few Thunder Bay specialties that must be tried by anyone visiting Thunder Bay for the first time.
Wrap Your Mouth Around A Persian
A Persian is somewhere between a cinnamon bun and a donut. They have the pastry of an unseasoned cinnamon bun, but are topped with a light berry frosting. And they are absolutely delicious. This tasty treat was a creation of the Persian Man bakery, but can now be found at a few places around the city.
Enjoy Some Finnish Pancakes
Finnish immigrants were a huge part of the growth of Thunder Bay. When the town was first being established, locals didn't understand the nuances of logging in this northern environment. Much land was set aside for Finnish loggers to move in and lend their expertise to the region. This resulted in a microcosm of Finnish culture within the city. In fact, Thunder Bay has the largest concentration of Finnish people outside of Finland.
Hit Some Locally-Sourced Delicacy
Even the best restaurants in Thunder Bay serve food fit for active people. Caribou, one of Thunder Bay's best restaurants features locally-sourced, seasonal menus. You'll find tasty dishes such as cedar plank salmon, blue ahi tuna, and Angus beef alongside local favorites such as Finnish pancakes and pizza.
Where to stay In Thunder Bay?
If you're looking for great places to stay in Thunder Bay, you won't be disappointed. Whether you're looking for luxury, accessibility, or great views, you'll find loads of Thunder Bay hotels that fit the bill. Here are a few of our top picks.
Prince Arthur Waterfront Hotel
The Prince Arthur Hotel stands out as a bit of a Thunder Bay legend. This waterfront hotel has a monumental history that includes being won in a poker game, being where the famous (Canadian Remembrance Day poppy) was brought to life, having a sneaky underground tunnel to deliver alcohol to the United States during prohibition, and being the accommodation of choice for the Royal Family during their visits to the city.
The Prince Arthur has big, beautiful, comfy rooms, and a fantastic staff who will gladly walk you through some of the, often unbelievable, stories of the hotel's history.
The Courthouse Hotel
Another great heritage building in Thunder Bay is the city's original courthouse. This historic building has been transformed into a hotel that has all the glory, and far more comfort than the original. The Courthouse Hotel is centrally located near downtown and Lake head University.
Delta Hotel By Marriott
It doesn't get any closer to the Thunder Bay waterfront than the Delta Hotel by Marriott. With an on-site restaurant, free WiFi, and amazing views of the Giant, the Delta Hotel has one of the best locations in all of Thunder Bay.
Best time to visit Thunder Bay
Thunder Bay's weather varies depending on the season. Winter in Thunder Bay is cold, snow and wind. These might not be the best weather for you if you are visiting for the first time. To experience Thunder Bay's comfortable weather, you need to plan your visit around then month of June – September
Frequently Asked Questions
Where can i stay in Thunder Bay Ontario?
These are few places where you can stay in Thunder Bay Ontario.
Prince Arthur Waterfront Hotel
The Courthouse Hotel
Delta Hotel By Marriott
Where is Thunder Bay Located?
Thunder Bay is a city on Lake Superior, in northwestern Ontario, Canada.
What is the Population of Thunder Bay?
The population of Thunder Bay is Approximately 108,843.
Conclusion
Thunder Bay Ontario has so many Fascinating activities for everyone in the city. This post contains top 20 fun things to do in Thunder Bay Ontario, Canada!