A US Visa Number: What Is It? 
Authorization documents to enter the United States contain a unique U.S. Visa Number. It is this number that the customs and border protection officers at the port of entry will collect to verify your authorization to enter the U.S.
In the American immigration context, a U.S. Visa Number is temporary if you have a nonimmigrant visa, such as a B2 visitor's visa or F1 student's visa. In contrast, the visa number is permanent for immigrant visas like IR2 visas, IR1 visas, etc. (green cards).
Furthermore, the visa number, also known as the visa foil number, is the red number printed on the bottom right of the visa document. Usually, the number on a U.S. visa contains eight numeric characters. Though it may begin with one letter followed by seven numeric characters.
This article covers the meaning of a U.S. Visa Number, the location where you can find it; how to get a U.S. Visa Number, and other relevant information you might need concerning this visa number.
Meaning of U.S. Visa Number
A U.S. Visa Number is a unique eight-digit letter and number code printed in red on a person's United States visa; this number is red in the bottom right of your visa.
After the U.S. embassy approves a U.S. visa, the consular officer will stamp or attach the visa on a full page of your passport, it contains various information about your visa status. The status is about whether you have an immigrant or nonimmigrant visa. So this visa contains an expiring date, a photo, and a unique red number known as a visa number or foil number.
Moreover, both U.S. immigrant visas and nonimmigrant visas have this U.S. visa number, and this is because a visa number plays a vital role in immigration. In addition, you may need to reference your visa number in some documents as a U.S. government officer may need it to check specific information on your file. So please don't make it less important as it is very vital.
Location of the U.S. Visa Number
Where to find the visa number in your travel document? Not too hard. The U.S. Visa Number is not hidden and is very easy to find on your visa surface. This unique number is red on your visa's bottom right side.
However, the place or color of the visa number does not change, whether it is a nonimmigrant visa number or an immigrant visa number. Moreover, aside from the number, there is other information the U.S. Visa contains that is also very important.
Other information in American Visa Number is:
Issuing Port Name – which states to the U.S. Embassy that the person got the visa.

Person's Last name.

Person's First Name.

Sex – indicates the gender of the person as F (female) or M (male).

Birthdate.

Nationality.

Passport Number.

Visa type – indicates the type of visa the person has. Visa type (like a K1 fiance visa or an 

H1B work visa

)

Entries – could be marked in the number of times the person is allowed to enter the U.S. or in letters. If you see S (Single Entry) on this section, you can only enter once. The letter M (Multiple Entries) means you can enter the U.S. multiple times.

Issuing date – when the visa was issued.

Expiration Date – when the visa expires, the person cannot enter the U.S. anymore.

Annotations are the notes that the U.S. Embassy writes, such as the name of your fiancé, spouse, or employer.
Reading a US Visa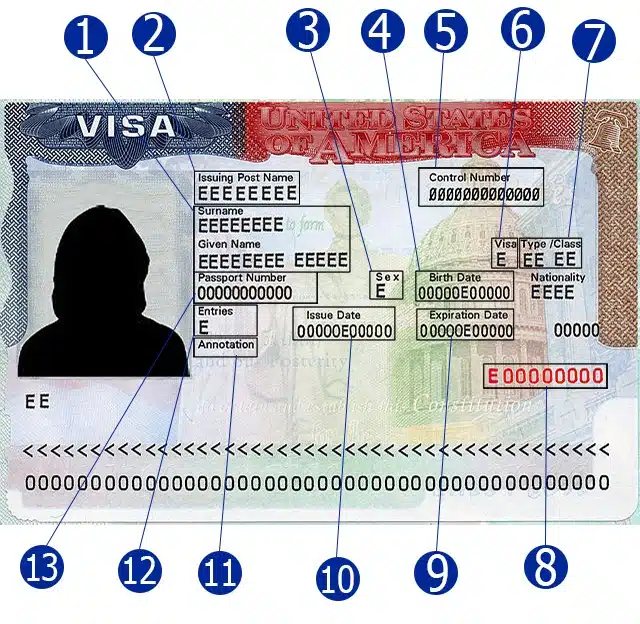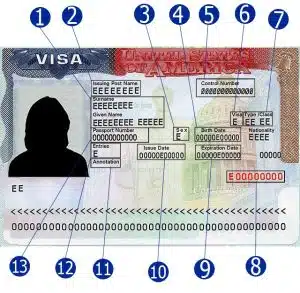 1. Name – Your given name and surname (family name)
2 Issuing Post – The U.S. embassy or consulate that granted the visa.
3 Sex – Male or Female
4 Birth Date –
5 Visa Control Number – The Department of State assigns this to keep track of visa issuances.
6 Visa – For visa, "R" is an abbreviation for a "regular" passport.
7 Type/Class – Indicates the visa classification and describes the purpose of your travel.
8. Visa Number – A red number is generally printed on the bottom right of newer visa documents.
9 Expiration Date
10 Issue Date – When the U.S. embassy or consulate issued your visa.
11 Annotation – Additional information about your visa.
12 Entries – Number of entries allowed.
13 Passport Number
How to Get a U.S. Visa Number
Remember, The Visa Number on a U.S. visa is only given to individuals once they have a visa. Therefore, to get a visa number, you must go through the process of applying for a U.S. visa. Moreover, U.S. Visa application procedures depend on which type of visa you want. So the application procedures are different, but generally, you will have to go through the procedures below:
File an application form to the U.S. Embassy;

Conduct medical checks;

Attend a visa interview;

Submit supporting documents.
Note: when the U.S. Embassy approves your application, they will stamp your passport with the visa, and it will also have the visa number. The visa number will be valid for a specific period you will stay in the U.S. if you have a nonimmigrant visa; otherwise, it will be permanent if you have a Green Card.
Steps to Get a US Visa Number
Don't forget that to get a U.S. visa number; you must apply for a U.S. Visa or file a U.S. visa application. To do this, you must go through the process of applying for and receiving a U.S. visa. Interestingly, both immigrant and nonimmigrant visas have a visa number. Therefore, the steps to follow are:
Submit form DS-160 or DS-260 online via your local U.S. embassy's website

Pay the visa application fee

Schedule a visa interview with a local U.S. embassy or consulate

Collect and submit the required documents

Attend the visa interview
If you succeed, the U.S. embassy in your country will issue you a U.S. visa with a U.S. Visa Number.
FAQs
How many digits is a visa number?
16 digits. 
What is a B1/B2 visa foil number?
The B1/B2 visa foil number is the red number that appears below the expiration date of the B1/B2 visa.
How to check Visa status using the Passport Number?
Visit the official website for visas of the country you are visiting.

Find the option to track the status of visa applications.

Enter your Passport Number/ Acknowledgement Number and Date of Birth.

Enter the captcha code and then click on submit.

The status of the visa will be displayed.
Where is my Visa card number?
Card number: A visa credit card number can be 13-to-19 digits long. It's usually printed right on the front of your card. But some cards have begun to put the number on the back as an extra security measure. Either way, you can't miss it.
Where is the number on a B2 visa?
Your immigrant visa, a visa stamp, or visa foil, is found in your passport. Your A-Number is identified as the "Registration Number" in the top right portion of the visa stamp.
What is the visa number for H1B?
The visa number is the eight-digit number in red in the lower right-hand corner. If the visa were issued before 2002, the visa would look slightly different, but the number is in the same place.
What is the visa file number?
You can find the file number below the UID number (Unified identification number). The file number contains three pieces of information, i.e., which emirates have issued visas, the year of the visa, and the number.
Is the UID number a visa number?
The UID number is used to identify anyone who has ever entered the U.A.E.; the UID number is required to complete the Emirates ID application. You can find your UID number on your residence visa copy.
Is the visa number the same as the USCIS number?
Once your application is approved, you'll also find your A-number on the visa stamped in your passport. Once you get your physical green card, your Alien Registration Number (labeled "USCIS#") will be on both the front and the back of the card.
What is your A-number F1 visa?
F1 visa holders, as a general rule, are not issued Alien Registration Numbers. The exception to this rule is when an international student is given work authorization, as with C.P.T. and O.P.T. In such cases, the Alien Registration Number is found on the work authorization documentation.
What is a visa number?
A visa number is unique, printed in red ink on your visa stamp inside your passport, and given to each person who receives a visa when entering the U.S.
What is an immigrant visa number?
For immigrants to the U.S., a visa number is not granted upon entry. First, a visa petition must be filed. Once the petition for a visa is granted, the person must wait for a visa number. The number of visa numbers given out in a year is limited.
How do I know when my immigrant visa number is available?
The date your visa petition was filed is your priority date. The State Department publishes a bulletin that shows what priority dates are currently being worked on. This will give you an estimate of how long it will take until you receive your visa number.
Conclusion
U.S. Visa Number is critical; therefore is a number you can not play with as long as you have your U.S. visa, especially a nonimmigrant visa. So follow our guide to obtain your Visa number, and also you can check out U.S. Visa information on this website.